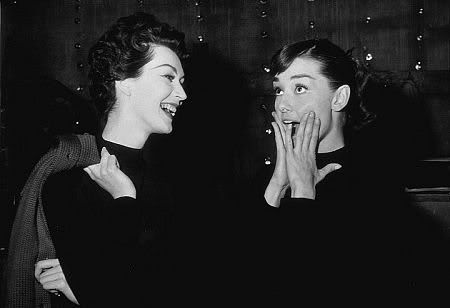 "When people are laughing, they're generally not killing each other." -Alan Alda
Year in Review: 2009
Many situations went awry during 2009: terribly awkward job interviews, bad dates, oddly cryptic and misconstrued personal exchanges, whose results mirrored an unrelenting frustration that was broken by one simple gesture: laughter. For me, 2009 was about learning to have a sense of humor in the face of life. Although 2009 didn't yield a job, it proved to be a good year. The time off from work allowed me to cultivate many new and interesting relationships, and delve into a great deal of longed for fashion research, and I hope the near future will incorporate all that I've learned and enjoyed recently. I look forward to 2010 being a year filled with laughter; the giddy silliness that reminds us of our child-like hearts holding hands with the world.

September 2009

September was insanely busy. At the beginning of the month, I flew to Vegas to hang out with Liz, Michael, and Gabriella while they attended the Magic/Pool/Project trade shows. It was also a wonderful coincidence that it happened to be Restaurant Week in Las Vegas, which was good news for my budget, as it allowed me to enjoy a great 3 course pre fixe menu ($65) at Bobby Flay's Mesa Grill. The highlight of the meal was the appetizer, a blue corn pancake with barbecued duck and a habanero chile sauce (basically a duck taco wrapped in a blue corn tortilla).
A week later I was in New York for Fashion Week, which was a really spectacular trip. Supershuttle, which is always an adventure in itself, (for less than $25) took me from JFK to my hotel, The Sheraton (811 7th Ave. - Times Square), which I swear is haunted. Although my stay in the hotel was just a few hours, my laptop screen was somehow destroyed, and one side of my favorite gray summer flip flops mysteriously vanished.
Quite serendipitously, Kira and Aaron were going on vacation the day after I arrived, so I was able to stay at their place in Hell's Kitchen for the duration of my trip.
The first night of this six day trip was pretty magical. I took the subway to meet up with Kira and Aaron at the 3LD Art Center for their Why Aren't You Naked HD video exhibition, where I met Donald, who acted as a catalyst in the creation of my latest artistic endeavor, LITTLE MAGAZINE. (See LITTLE MAGAZINE's post regarding entitled Divinity Puff)
And the tents at Bryant Park were crazy as always. I completely missed the Christian Siriano show due to being pushed by a ridiculously impatient mob, however the Vivienne Tam show more than made up for the mishap as I was uber lucky to have a seating assignment, and was able to meet and interview her at the show's afterparty thanks to Sarah Conley of StyleITOnline.com. (See M.I.S.S. Vivinne Tam post regarding and see MMODANY/4Eyes post – originally posted on M.I.S.S. but is no longer on the site, so reposted on MichellePlex)
And within the tents of Byrant Park's Fashion Week, there is a particular din of chitter chatter that waves in accordance with the celebrity hierarchy. At one point it was audibly clear Russell Simmons was there, although I did not see him myself. However, I ended up around Ando Masahashi from Heroes and his annoyed looking girlfriend for quite some time. It wasn't until after I consulted a reliable TV source that I knew it was him, (since I don't watch very much television and am pretty much out of the celebrity loop), but I could tell from all the ruckus and commotion and people asking for photos that he was supposed to be some kind of famous.

My favorite sighting though had to be of teenage male model, Shaun Ross, a dramatic albino with an almost just as dramatic entourage.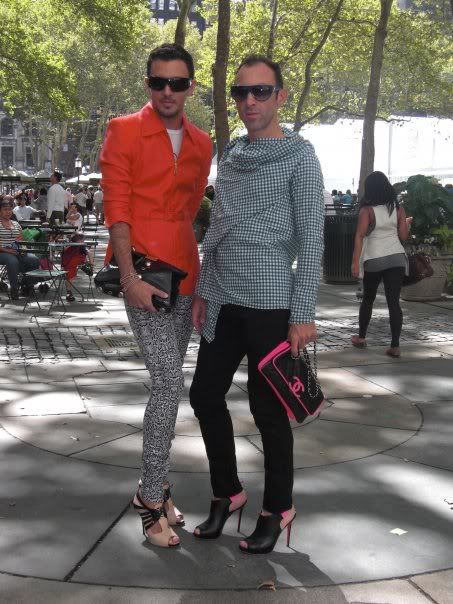 And I had to snap a photo of these fabulous guests of the 4 Eyes Presentation (taken outside of the New York Public Library).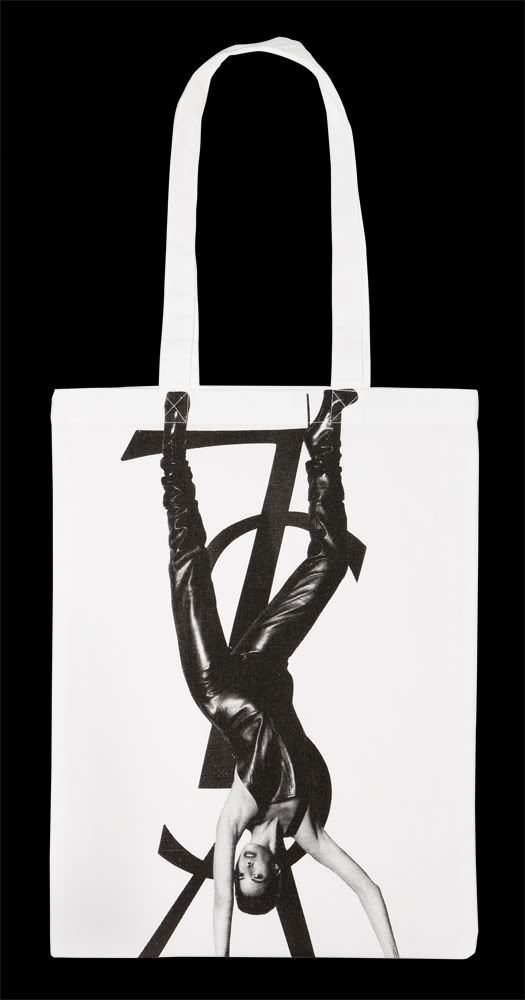 Was also lucky to snag one of YSL's Fashion Week Manifesto for F/W 09-10 Bags (See the M.I.S.S. post about its acquisition)
Hanging with Gee and Gabriella from M.I.S.S. and Natalie from Coquette at the Glam mixer was great fun. The Four Eyes show at the New York Public Library was delightfully chill, and the Hautelook Lounge atop the Bryant Park Hotel was very much appreciated on those not so fashionable, long, rainy, and horribly humid NYC days.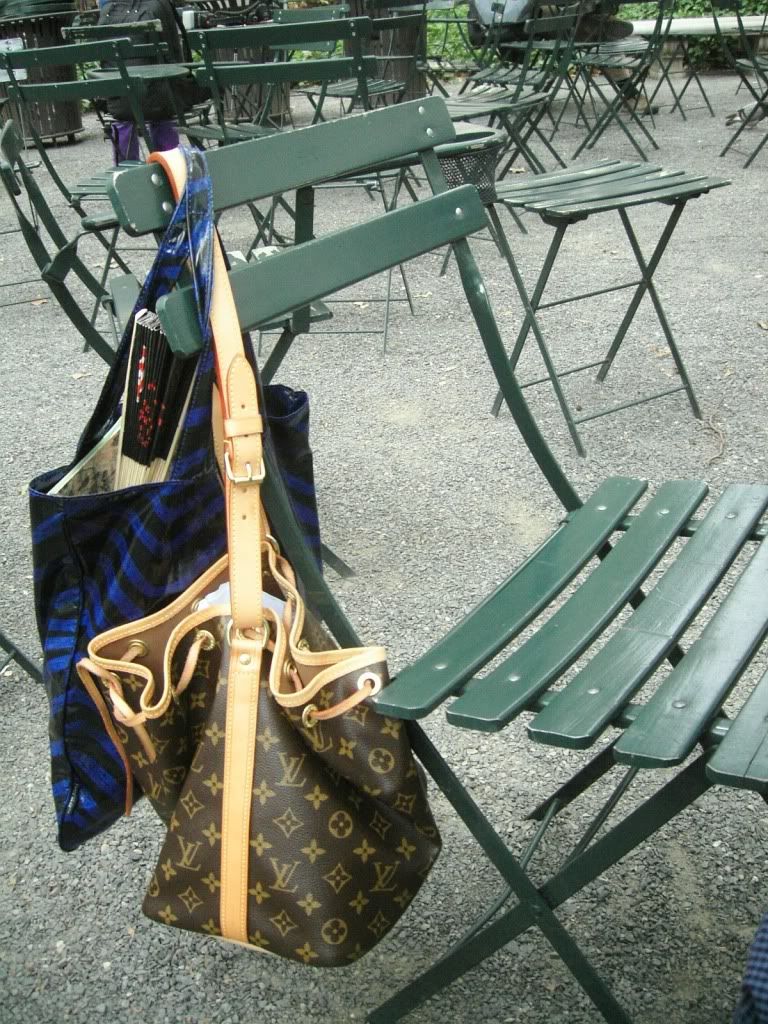 H20 and Diet Cokes meet Marc Jacobs and Louis Vuitton in the Park (Bryant) - Ts' photo from Life/StyleTimes
Ts and my brother also happened to be in town, so it was awesome being able to hang out with them in the city that doesn't sleep. The trip also included touristy stops at the Observation Deck of Rockefeller Center, Grand Central Station's Oyster Bar (best half-shell oyster of the day there was the Shinnecock oyster from Long Island), and the MoMA, where Monet's Water Lilies exhibition was absolutely breathtaking.
Upon my return to the Bay was my sister's 28th birthday party, where she accidentally got locked in handcuffs by an unseasoned male stripper, which was hilarious and quite mortifying to say the least.
October 2009
I don't know why I ever thought October was going to be a quiet, restful month, and by now I should definitely know better to assume such things. With the launch of LITTLE MAGAZINE on October 10th, it was an exciting, productive, and personally fulfilling month. The Curator store opening party (LITTLE MAGAZINE has a post on their She-bible merchandise) with Stacy, Jessica, Megan, Amedee, and Ts was an absolute champagne blast, Anna's Grey Gardens themed birthday party was fantastically orchestrated complete with Little and Big Edies abound, and Halloween partying with Jess and Megan at Elbo Room's goth night, Shutter, was the utmost perfect way to end the month.
November/December 2009
I just wasn't ready for the holiday season this year. A tree didn't work logistically, so that was ixnayed, and somehow my plans for making homemade gifts like I usually do didn't pan out either for some reason. All together, Thanksgiving and Christmas seemed forcibly rushed, and it was more or less like an outer-body holiday experience for me, meaning in layman's terms that I severely lacked the holiday spirit this year. I can't complain too much though, as some really awesome meals were consumed during this time. Most memorable was the cheesy shrimp and grits at Brenda's, which was absolutely to die for and the perfect remedy for a cold, foggy San Francisco day.
Socially, December included: seeing Ts DJ at Oakland's new spot, the Layover, Stacy and Amedee's happy hour DJ gig at Casanova, Liz's karaoke birthday party at Do Re Mi, EpiscoDisco with Jess, Megan, Katie, Noel, Seth, and Glenda, Brooklyn Circus' holiday party at Yoshi's SF with Liz, Michael, and Errico, Zeitgeist with Jesse and Sophie, The SuperTaster, who gave me the most delicious homemade fig/orange/cardamom jam and saffron/almond and parmesan/black pepper biscottis for Christmas. Spent New Year's Eve in Polk Gulch at Encore karaoke with Dee, L., Joey, Anna and their crew. Was a blast, met up with everyone late, but still made the countdown thanks to L.'s swift taxi hailing skills.
On my mind this week:
1. In 2009, parts of my life were like this…
and like this…
2. Was all giggly in 2009, thanks to my new favorite TV show…
3. I like 2010 so far…
4. And I hope the rest of the year works out something like this…
5. Someday.