I would definitely say I had a pretty good past few weeks. Started with the LW and breakfast at Mama's, then dinner bonding over too much red wine with Edwin, Dee, Sarah and I at La Mediterranee. There was the Glam.com SF blogger mixer at Bacar, where myself, and Misscrew founders Liz and Gabriella met a variety of other fashion bloggers including Natalie of The Coveted,
http://thecoveted.blogspot.com/
, and Janine of Coquette
coquette.blogs.com/
, and Stephanie from
Stiletto Jungle
,who were all very kind and interesting. Popped over to the Stork club with Liz and Errico for the Oakland Art Mumur to see Hottub who put on an awesome performance, with Errico doing it right by joining in with the girls. There was cousin Steph's wedding, and Kira's west coast visit. Thanks god, we got our dog Wing, Wing back. Turns out some neighbors had borrowed her for a few days...Anna made Dee and I a very tasty breakfast Sunday complete with a frittata, freshly squeezed orange juice, homemade coffee cake, and a trip to the flea market. Just got home from Vegas a few days ago and can't tell you how happy I am to come home to lukewarm weather. Hallelujah!!!!
On my mind this week:
1. My stylist tried something new with my color, it now has these pieces that have an old-lady type purple tint to it, but then again I think it's quite fitting cause my friends and my mom have always called me an old lady…
2. Surely there are laws against the amount of red meat I've consumed in the past two weeks.
3. Misscrew is reprazentin on Miami Ink.
http://www.misscrew.com/blog/?p=989
Peep it!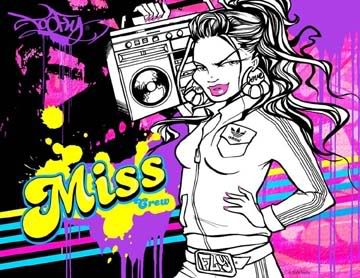 This is so exciting, like they say, "eyes to the sky, ears to the streets, MISS is everywhere…"
4. The Bay Area is so small. It's crazy and kinda amazing how you run into people….expectedly and unexpectedly.
5. M.I.S.S. Liz delivered by birthday present the other night. And it was so good that I'm not having my raincheck birthday party anymore…well, at least not for now. Thanks, you really are the bestest life partner!… ;)
6. I know about Hamburger Eyes, but I heard the funniest reference the other day to hamburgers and the part of the female anatomy above the waist.
7.
More than just a hairstyle.
LA is Pandora's box.
Jewelry does this to me too…