Did lots of catching up the past few weeks. Started with drinks at the Tiki bar with Ruben and Ryan, then later with Jenny, Matt and Darrel, and drinks also at the LW, and some La Pin with Tee. Anna's birthday party at Joaquin Miller was a good time, learned how to play croquet despite the rave going on next to us (they actually had a PA system! Wtf?!), which decimated Joey's plan for croquet and picnicking to 60's French pop. Bootybassment that same night with the homies, Danny and Errico, and then more late night Lapin. Did a tasting at Azie for work with David; all I have to say is their Kobe beef skewers are like heaven on a stick, and then went to the glam.com event at Etiquette with Misscrewers, Gabriella and Liz. Went to the LW's Halloween party as Rachel from Bladerunner, deciding Barbarella will get her debut next Halloween. The earthquake a few nights ago had me and Dee hugging in my bedroom doorway like two scared orphans. Hmm, maybe next year we can be Siamese twins or something for Halloween……Went to the De Young with Dee and Ingrid to check out the Nan Kempner exhibit, my favorite pieces included her gold Yves Saint Laurent bubble cape, the Gres dresses, the Halston feather jacket, and a harlequin leather jacket trimmed with mink.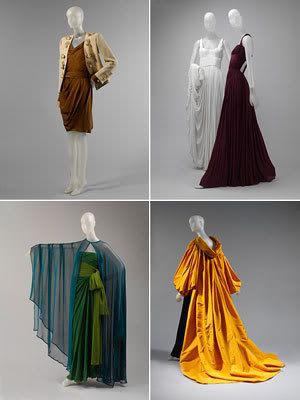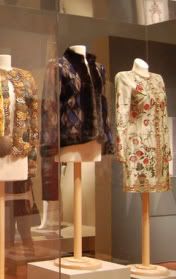 After had tea at Ritual and then ate dinner at Luka's for the first time in ages. The Chow Nasty house costume/birthday party was a blast and included a dance party, and an impromptu show. One more birthday party to go and I'm officially done birthdaying for this week...Okay, I'm ready for silent retreat time and my aromatherapy now.
On my mind this week:
1. Was so glad to make it out to the last Bootybassment! Always a great party and always guaranteed to run into familiar faces!! I got my dance on hard, thanks to Dimitri, and the homeboys, Danny and Errico, and as evidenced by the condition of my shoes the next morning…and my shirt (bartender split three drinks on it, which usually gets me kinda riled, but I was having so much fun I wasn't even trippin'!!)
2. The Dee and I and Danny too apparently got caught up watching the PBS documentary on Charles Shulz the other night….by the end of the documentary we were both in tears..... The man was the cleverest storyteller and an absolute genius when it came to dialogue, and his sense of humor was extremely sharp as well. It's unfortunate his personal life had been so problematic.
3. mmmmmmmm, good ol' Beethoven.
4. Our Juanita's sessions are the best! Errico, Elizabeth, Danny, me, and now my sis all converge in the back of the restaurant for our meetings far, far away from any children…I swear, if those walls could talk.
5. I ordered new business cards for myself the other day and was totally reminded of this…
http://www.youtube.com/watch?v=qoIvd3zzu4Y
6.
This performance of Heartbeats is so incredible...even better than the recorded version….what the hell was I doing, why didn't I go to this show?!!!?!
7. Not a bad horoscope for this week:
You're a star—and so am I. I'm a genius—and so are you. Your success encourages my brilliance, and my charisma enhances your power. Your victory doesn't require my defeat, and vice versa. Those are the rules in the New World—quite unlike the rules in the Old World, where zero-sum games are the norm, and only one of us can win each time we play.
In the New World, you don't have to tone down or apologize for your prowess, because you love it when other people shine. You exult in your own excellence without regarding it as a sign of inherent superiority. As you ripen more and more of your latent aptitude, you inspire the rest of us to claim our own idiosyncratic magnificence.