April started with Saks/
Sugar Publishing
event, where I was happy to snag a Marc by Marc Jacobs tote and one of the very large Shepard Fairey designed Saks shopping bags.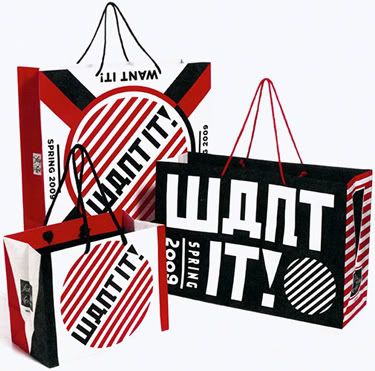 Saks Shopping Bags Designed by Artist Shepard Fairey
Later that night Liz and I stopped by Le Cirque(
The Brooklyn Circus
) at
Yoshi's Fillmore
, hung out with Cas and his friend from
Steel Closet
, and then danced the night away at
Beauty Bar's
Life/Style. Went to 111 Minna for Jay Alexander's birthday party to see Ryan and Dylan dj, no one asked me if I was a
tranny that night thank god, cause that's what some moron did two years ago at the same event
! Later that night met up with Natalie and Lindsey at Bar 821 and then had a late night corned beef sandwich with Liz and Josh at
Tommy's Joynt
.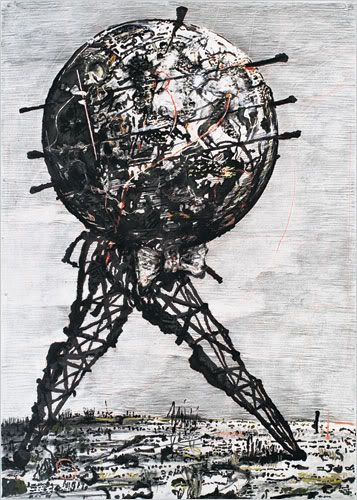 "World Walking," by William Kentridge
Checked out the
William Kentridge exhibition
at the MOMA, which I liked, was dark and charmingly grotesque. However, the
Nick Cave exhibition the Yerba Buena Center for the Arts
absolutely blew me away. It was colorful, textural, fun, and really just brilliant.
From Nick Cave's Meet Me at the Center of the Earth Exhibition (Mar 28 -
Sun, Jul 5 2009 YBCA Galleries)
Stacy's birthday BBQ at the SF Skatepark was a blast, and included burgers, chorizo, and some drunken playground gallivanting. Lee, Dee and I had a dinner and theatre date, went to
Cav
for dinner, since
Zuni
was closed for remodeling :(, and then saw Wicked. For the majority of the month, I experienced a horrible intestinal bug, which I believe was healed by the probiotic properties of Dannon Activia yogurt. Hallelujah for that cause it was NOT a cool time!
May always signals the official start of birthday season for me, and the month got off to quite a spectacular start with its first birthday party being Jessica's. The night included dressy pre-partying at the birthday girl's house where we sipped on deliciously concocted Manhattans and Aviations. Dessert and champagne were had next at
Bix
, and drinks in the Russells Room at
Bourbon and Branch
followed making for an ingenuously fabulous night, and the perfect birthday party.
The following weekend Liz and I saw
Hottub
at Vessel, and checked out
Amanda Lopez's art show
, where
The Park
put on a pretty impressive performance as well. The next day was Brandan's birthday brunch at Dolores Park, it was a decadently fun time, this classy braud brought Jello-shots, a Brandan birthday tradition I've been doing for a couple years now. But Teddy's homemade jumbo coconut shrimp were absolutely beautiful, and therefore stole the show; receiving an initial gasp and then clapping as he lifted away the lid of the serving tray. Alex's homemade salt caramels were absolutely to die for and Dan's scones, and Dee's savory bread pudding were certainly hits as well.
Too Much Fun at Dolores Park – Eric spent at least 3 hours being pregnant that day!
At
PST at 330 Ritch
Liz provided
Jesse Boykins III
with his stunnas for the show, and I couldn't stop singing Pantyhose. Oh, and by the way, one of my new obsessions is vintage dead stock pantyhose! Okay, so I digress a bit.
Jesse Boykins III – Pantyhose
Then, for Errico's birthday we hung out with him and the boys at the house, eating tacos and shootin the shit with the A-town crew. That Friday was Adrian's birthday party which started at
Badlands
, moved to Toad Hall, whose DJ was so on it that night, followed by late night Nizario's (I actually brought my Escape from NY Pizza into Nizario's cause I like their crust better, but had Nizario's Castro Special earlier that night for dinner). The following night went to
Bootybassment
with Jessica, slumbered partied with her, and then had to run through the Bay to Breakers to get Sunday brunch. We had a really nice lady date that afternoon, walking through downtown SF to
Hog Island at the Ferry Building
, where we had our own beer and oyster festival, since I didn't make it out to the
O'Reilly's one that day
. Sara's birthday party at Buck Tavern was nice and chill, as was hanging out at the
Forbidden Island
(Alameda tiki bar) with Christle, Dee and Enrique.
The mixer at
Foreign Cinema
with the SF Chapter of
Ladies Lotto
was full of female bonding fun. Was great hanging out with Natalie of Ladies Lotto, Jenny of
Acrimony
and Terry of
Evil Monito
. Liz, Gabriella, Christle and I went to Beauty Bar after, and the next night went to Vessel again with the ladies (
Liz
,
Gabriella
,
Katie
,
Lin Lin
, Sarah) to see
Jubilee
spin at their happy hour, went to
Osha
for dinner,
Rickshaw
to catch her again, and ended the night with Hottub at the
Uptown
in Oaktown. Was a nice relaxing day catching up with Jesse and Sophie (foodie - writes
The Supertaster
) at the
Ferry Building's Farmer's Market
, and I'm really excited to try the
Rancho Gordo
yellow eye beans she gave me. I'm totally gonna cook them up with a with a ham hock. Mmmmmmm I can already taste it now!
On my mind this week:
1.
I LOVE this 90210 intro!!!!
2.
Speaking of 90210, my sister first showed me this video...HILARIOUS! BYEsies!!
3.
I can't wait for the show tomorrow night!!! :)
4.
The company of wolves is best.
5.
So simple, so perfect, so lovely. Refreshing to see true talent still exists out there in the world of new-ish music.